To give a PC or Mac on the verge of retirement, install Chrome OS Flex. Inspired by Chrome OS, used in Chromebooks, this Google OS is light, simple, and free!
Is your PC or Mac too old or too slow to run recent versions of Windows or macOS, or at least updated enough to not risk virus attacks every time you surf the web? With Chrome OS Flex, Google offers to give it a second life without resorting to an obscure Linux distribution. Chrome OS is the operating system that has been driving Chromebooks and Chromeboxes for several years, and it's a fairly limited range of laptops or desktop computers. These machines are primarily designed for the US education market, and they have also won the admiration of the general public. Based on Chrome, Google's operating system has the particularity of focusing on working online – it obviously prefers in-house tools – but it's also very light and responsive. Chrome OS in its early days primarily worked with web applications open in the browser, and over time it opened to host the Google Play Store, the online store for Android apps. So Chrome OS Flex derives all its core from Chrome OS except for one detail and not the least: here there is no Google Play Store.
Installing Chrome OS on an old PC or Mac has already been possible for a few years, but not necessarily within everyone's reach. To achieve this, it was necessary to rely on the free CloudReady tool developed by American Neverware and find a version of Chrome OS. CloudReady, which was acquired by Google in 2020, has officially made it possible to install Chrome OS on any computer. It is quite natural that Google turned to this tool to develop Chrome OS Flex. Chrome OS Flex runs completely free on most computers prior to 2016. Google also provides a brand-branded list of compatible devices to check that your PC or Mac can accommodate the system. In addition, currently available in the early access version, it is necessary to register online to be able to download and install the operating system. Then simply create, from the Chrome browser on your PC or Mac, a bootable USB key containing the system and then start the installation on the computer to host Chrome OS Flex with it.
A stable version of Chrome OS Flex should be introduced in the coming months according to Google. But you can really take the adventure and see if your old PC finds a little freshness by switching Windows or macOS against Chrome OS Flex.
Is Chrome OS Flex tempting you to give an old PC a facelift? We tried it on our side by installing it on a 2007 Toshiba laptop powered by a 2.1GHz AMD Athlon X2 processor backed by 4GB of RAM. In other words, from the antiquity of the computer world. To avoid wasting time, we advise you to make a USB key that allows installing Chrome OS Flex from a modern computer (PC or Mac). If you are using your old computer, it may take several hours just to download the Chrome OS Flex disk image and create a bootable USB key.
► Chrome OS Flex has not yet been officially distributed, at the moment it is necessary to be satisfied with the so-called unstable version, which was previously suggested for download. Launch Chrome browser and go to the page created by Google to sign up (it's mandatory) to take advantage of it. Validate with a click of the button Try Chrome OS Flex.
► On the new page that appears, tap See installation guide.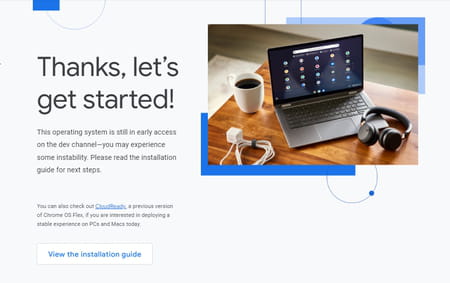 ► Before you begin, Google asks you to check the compatibility of your devices by referring to a list of approved compatible PCs. If it doesn't show you there, don't panic, you can still give it a try. Click on The next page.
► You are now required to create a disk image copied to a USB key allowing Chrome OS Flex to be installed. To achieve this, you need to install the extension Chromebook Recovery Tool In Chrome (you can delete it later). Click on the link chrome online store.
► On the page that is displayed, click the button add to chrome. The extension is installed and occurs in the toolbar. Click on it.
► Chromebook Recovery Utility window appears. Click the button Started.
► Click the first dropdown menu Choose the manufacturer. This list lists Chromebook manufacturers. Your equipment is not included, that's normal. But in this list Google Chrome OS Flex. Choose this option.
► Ditto in the second drop down Choose a template, and go to Chrome OS Flex (developer unstable). Click Continue.
► Insert at least 8GB USB stick into a free USB port on your computer. Select it from the list Select the method to be used. Please note that all data contained in the key will be deleted.
► FINALLY CLICK Create. Chrome OS Flex download starts.
► This is followed by the creation of the startup key. Depending on the power of your computer, the process can take between 10 and 30 minutes.
► At the end of the installation, remove your USB key from your computer if it is not the one you want to install Chrome OS Flex on.
► Warning: The storage space of the computer where you want to install Chrome OS Flex will be empty of its contents. Normal, you install a new operating system. So be sure to back up any important data it may contain first.
► Then connect the Chrome OS Flex installation switch to your computer and start it. It may be necessary to perform a processing in the BIOS of the device in order for it to boot from the USB key. Access the BIOS by pressing the key at startup F2And F9 where F12 (Refer to the PC User's Guide to find out) and find a list long shoes where start. Choose USB.
► Your computer then starts with Chrome OS Flex installed on the USB key. This stage can last several minutes. This is perfectly normal, especially if the computer is old and therefore does not necessarily have fast USB ports. Moments later, the window Welcome to CloudReady 2.0 shown.
► Click United States English Choose the language you are using (French) in addition to the keyboard language. check through Okay.
► The home page is now in French. Click on first steps.
► Chrome OS Flex gives you two options: install it directly on your computer instead of your current operating system or try it without installing it. In the latter case, the system installed on the USB key will manage the computer. Do not remove the key. Choose this option by clicking try first Find out what Chrome OS Flex looks like before you decide and validate following.
► Like any device, you must connect it to your Wi-Fi network. Choose your network from the list and enter the associated password and verify that it is correct.
► Accept the terms and conditions and continue.
► Then choose who uses this computer. Click on you all Until now following.
► Chrome OS Flex is associated with Google. Also, you have to enter your Google credentials. Enter your Gmail address and associated password. After that, you can use a guest account.
► It is the Chrome browser that reigns supreme at the heart of Chrome OS Flex. In fact, it can sync with your Google account to retrieve bookmarks, passwords, and extensions installed on other computers where Chrome is configured with your Google account. Choose if you want to sync Chrome OS Flex.
► The following steps allow you to take advantage of the Google Assistant and even the "Hey Google" voice assistant. Choose if you want to use it.
Configuration complete. Click on first steps.
► The Chrome OS Flex desktop is displayed. It is devoid of any code (and always will be). At the bottom of the screen is a taskbar (called a shelf on Chrome OS) where the Chrome browser is. You can add other shortcuts.
► On the right is access to settings.
► On the left, the button gives access to the items of the workspace group (documents, sheets, etc.) but also to files saved on the computer. This is where you will find the Webapps that you will use in Chrome. Remember that there are no real programs to download in Chrome OS, unlike Windows or macOS.
► All you have to do is discover this new ultra-lightweight system. There is no doubt that your old computer will work like a charm.