Blackmagic Design announces Blackmagic Cloud Store, a new high-performance networked storage solution featuring four 10GbE connections and a parallel memory core capable of supporting maximum transfer speeds on each port simultaneously, the most demanding players in the TV and movie industry. ..
© Blackmagic
Blackmagic Cloud Store has a stylish design specially designed for
This network storage solution is suitable for any type of use: it's ideal for movies and TV when large files are shared among multiple users for editing, rating, audio and VFX publishing, and it even manages massive 12KB Blackmagic RAW files. Users do not experience any delays and do not need to store files locally… It is the perfect solution for DaVinci Resolve for example.
Unlike standard rack-mounted storage products with powerful cooling fans, the Blackmagic Cloud Store features a vertical, portable and quiet design. It has a set of flash memory cards running in parallel and 4 x 10G Ethernet ports that act as a switch, allowing 4 computers to be connected or run together using link aggregation for speed 40G Ethernet. It also features an HDMI monitoring output so that users can watch the storage directly on a TV or monitor.
Available in 20TB, 80TB, and 320TB models, the device offers plenty of space for all your corporate files and video media. M.2 flash memory cards offer high reliability, fast access speeds, and zero search times. Cards are arranged in parallel RAID 5 sets to run much faster than a single card, providing very high throughput and fault tolerance. Its internal memory core is designed to use all four 10GbE ports to maximum theoretical capacity, all at once. At full speed, the Blackmagic Cloud Store stays extremely quiet and the fan is extremely quiet.
Users can set up a local cache for their Dropbox files. So the work is faster because the files are immediately available. The Blackmagic Cloud Store keeps everything in sync. Users save space on their computers by moving cached Dropbox files to the Blackmagic Cloud Store so that everyone in their network can access them. They can also sync to multiple Blackmagic Cloud stores via Dropbox. Everyone then has a local copy of the files and those in different geographies can collaborate without delay.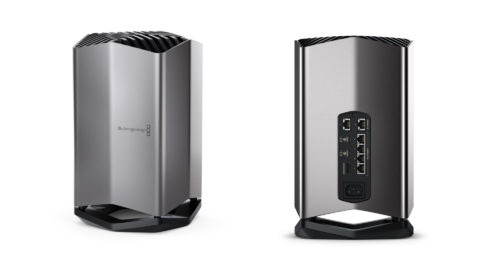 The memory map displays a graphical representation of memory kernels and real-time read-write access to connected users. In addition, 4 graphs display data transfers over 4 10G Ethernet connections. The master space indicator shows users the base memory capacity and its current usage. The status of each Dropbox connection is also shown. It is even possible to see the connected users and the power status.
The Blackmagic Cloud Store has 4 10Gb Ethernet ports, which are usually found on expensive computers. The Blackmagic Cloud Store is fast enough to handle every 10G Ethernet port to its full potential. With an integrated Ethernet switch, each port can be connected to a separate computer, or they can work together to provide 40G Ethernet. The two additional 1G Ethernet ports allow users to keep 10G Ethernet ports free to connect faster computers. Modern laptops are so thin that they often don't have an Ethernet connection. The Blackmagic Cloud Store has a built-in USB-C to Ethernet adapter, allowing users to access it by simply plugging their computer into a USB-C port. So they just need to plug in to quickly access the files.
The two USB-C ports in the Blackmagic Cloud Store can be used to upload and save files. If users connect a media card reader or USB-C disk to the input port, all files on that disk will be uploaded to the Cloud Store. Although Dropbox is a good backup solution, by connecting a USB disk it is possible to make local backups for free and strictly confidential. Works with both USB-C disk and USB-C disk array.
With Blackmagic Cloud Store, users have complete control over their storage space. There are no subscription fees, monthly licensing, or tracking fees for its use or data. Thus, they can manage a private network completely separate from the Internet. This is necessary for many security standards as computer networks cannot be connected to the Internet externally.
Briefly :
Sleek design with silent cooling.
Includes 20TB, 80TB, and 320TB models.
High performance RAID 5 flash memory.
Sync with Dropbox.
It includes an HDMI monitoring output with real-time storage status.
It includes four 10 Gigabit Ethernet ports with a built-in switch.
Supports Ethernet connection via USB-C for computers.
USB-C ports allow for local file storage and backup.
No subscription, no license, no tracking of user data.
Utility software included for Mac and Windows.
The Blackmagic Cloud Store is expected to be available in the second quarter of 2022 at a starting price of $9,595 (excluding fees) from Blackmagic Design sellers worldwide.