9,199 euros for an Apple Mac Studio, is that overkill? We enjoyed comparing the largest setup of Mac Studio with PC hardware.
At its first event this year, Apple showcased the Mac Studio – a compact desktop computer that delivers impressive computing power for its size thanks to the new M1 Ultra chip – alongside the Mac Studio Display 5K.
As usual, you can allocate Apple devices to add RAM and storage … Thus the Mac Studio can reach 9,199 euros with 128 GB of unified memory, 8 TB of SSD and the M1 Ultra chip in its more powerful version.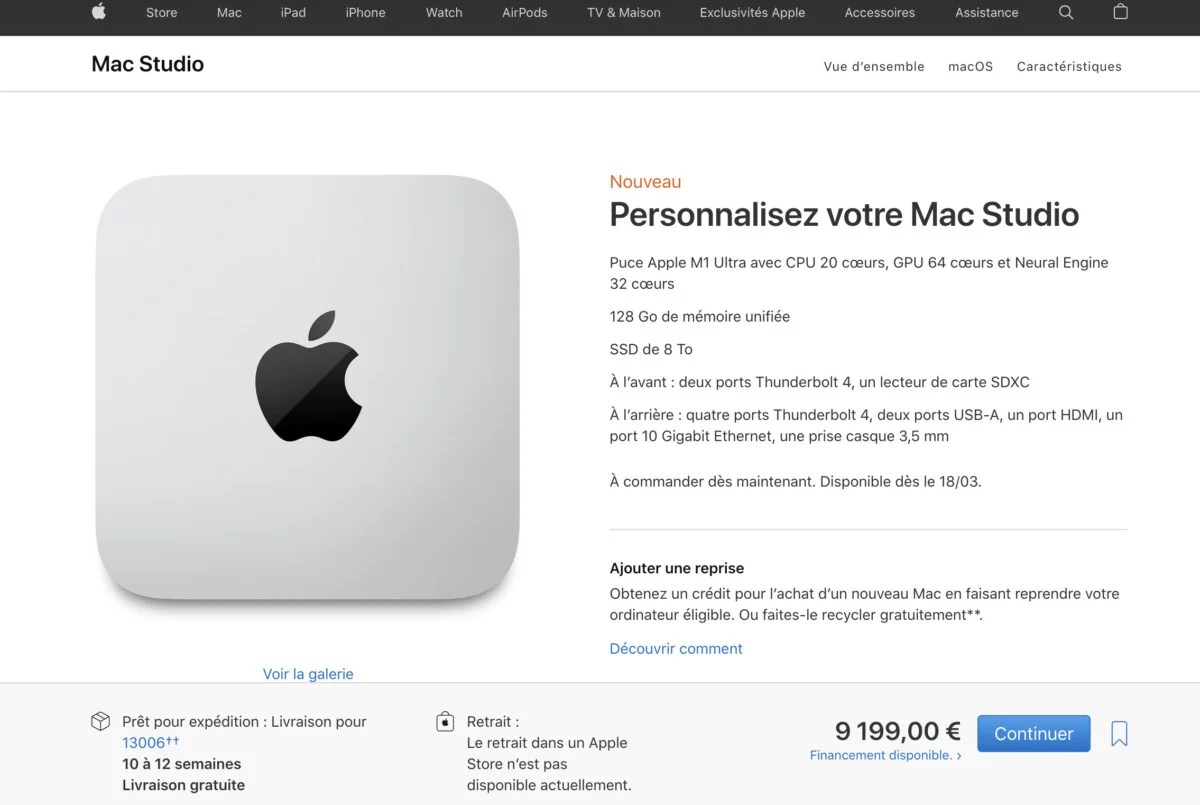 This price is so high, we wondered if it could be compared to computers. The exercise is not simple, but interesting. Moreover, it is clear that Apple's offering seems unique in the market.
We could have entertained a custom PC configuration by choosing a smaller chassis, such as the NZXT H1, but it is very difficult to find a small case that is compatible with the largest components of today's PC. Typically, the GeForce RTX 3090 does not fit into most of these cases, this graphics card uses three slots over 31 centimeters long. Note that there are RTX 3090s with more compact dimensions.
If we are interested in the GeForce RTX 3090, it is because the graphics performance of the M1 Ultra chip will be superior to that of the Nvidia GeForce RTX 3090 graphics card, which is currently the fastest graphics card on the market. In addition, the M1 Ultra chip only consumes just over 100 watts, which is 200 watts less than the RTX 3090.
Furthermore, the Mac Studio's power supply is only 370 watts, while it takes a power supply of no less than 700 watts for the equivalent on a PC. So you realize that it seems very complicated to build a computer with similar dimensions.
In short, although this first analysis shows that the comparison is still difficult, we still enjoy looking for similar configurations on PC.
Compared to high-end gaming PCs
We turned to pre-made solutions from major manufacturers such as Dell or MSI. These configurations exist, they use CPUs like Intel Core i9-12900KF or AMD Ryzen 9 5950X and GeForce RTX 3090 and 128GB of RAM. We couldn't find a PC configuration that came pre-compiled with 8TB of SSD, so we took the Mac Studio with 2TB of storage as a reference.
It is possible to buy an 8 TB SSD, the Sabrent Rocket Q in NVMe format costs 1299 euros with half the performance of an Apple SSD.
Apple MacStudio
Dell Alienware Aurora
Dell Alienware Aurora Ryzen Edition
MSI MEG Aegis Ti5 12VTJ-001EU
CPU
Apple M1 Ultra
Intel Core i9-12900KF
AMD Ryzen 9 5950X
Intel Core i9-12900 K
GPUs
Apple M1 Ultra
Nvidia GeForce 3090
NVIDIA GeForce RTX 3090
NVIDIA GeForce RTX 3090
RAM
128 GB of unified memory
128 GB (4 x 32 GB, DDR5, 3600MHz)
24 GB GDDR6X Dedicated GPU
128 GB (4 x 32 GB, DDR4, 3200MHz)
24 GB GDDR6X Dedicated GPU
128 GB (4 x 32 GB, DDR5, 3600MHz)
24 GB GDDR6X Dedicated GPU
SSD storage
2 TB
2 TB
2 TB
2 TB
price
7129 €
6609.01 EUR
6462.19 €
€6799.96
shop
Apple Store
Del
Del
LDLC
As you can see, the price of Mac Studio isn't that crazy. With similar configurations, the difference is less than 600 euros. GeForce RTX 3090 configurations are all gaming oriented.
Note that the benefit of Mac Studio is not geared towards the game as it is with computers equipped with Nvidia GeForce RTX cards. So we must turn to professional workstations.
Compared with workstations
So we are talking about workstations in the context of professional uses such as video editing, 3D, motion design, scientific research, etc. Industrial and creative needs that require large amounts of computing power.
Mac Studio can be compared to these workstations. In the latter, we find the professional offering of Intel and Nvidia. Exit, Cores and GeForces, and then we talk about Xeon and Quadro RTX.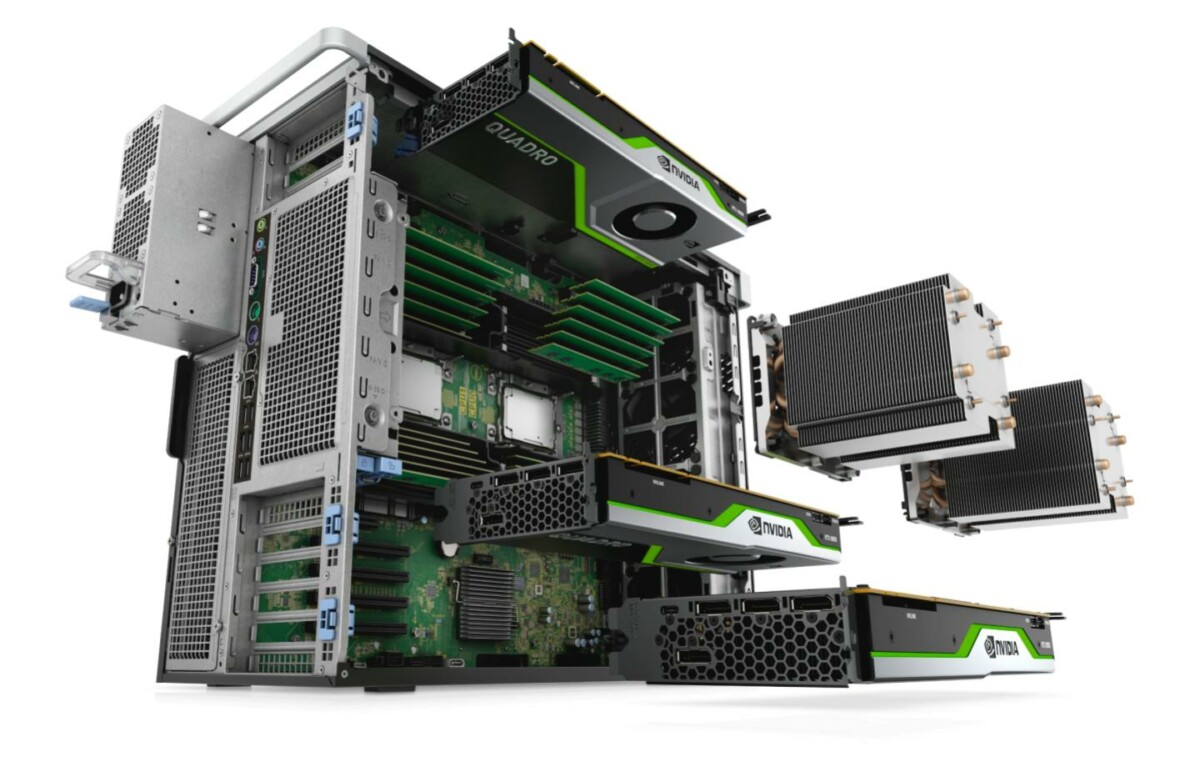 As much as he warns you before you find out the table below, the prices are much higher than Apple's. We chose two devices by trying to configure them with similar resources. Again, exercise is very sensitive.
Apple MacStudio
Dell Precision 5820 Tower
Dell Precision 7920 Tower
CPU
Apple M1 Ultra
Intel Xeon W-2295
Intel Xeon W-2295
GPUs
Apple M1 Ultra
NVIDIA Quadro RTX 8000
NVIDIA Quadro RTX 8000
RAM
128 GB of unified memory
128 GB (4 x 32 GB, DDR4, 2933MHz)
48 GB GDDR6 dedicated GPU
128 GB (2 x 64 GB, DDR4, 3200MHz)
48 GB GDDR6X dedicated GPU
SSD storage
2 TB
2 TB (Class 40)
2 TB (Class 40)
price
7129 €
Original price: 17225.09 €
Discounted: 11196.88 €
Original price: 23360.69 euros
Discounted: 15,165.52 euros
shop
Apple Store
Del
Del
On these workstations, you can even add more expensive CPUs, such as the Dual Intel Xeon Platinum 8280L (38.5 MB cache, 28 cores, 56 threads) or add a second graphics card. Then we get the configuration whose price exceeds €80,000 before discount.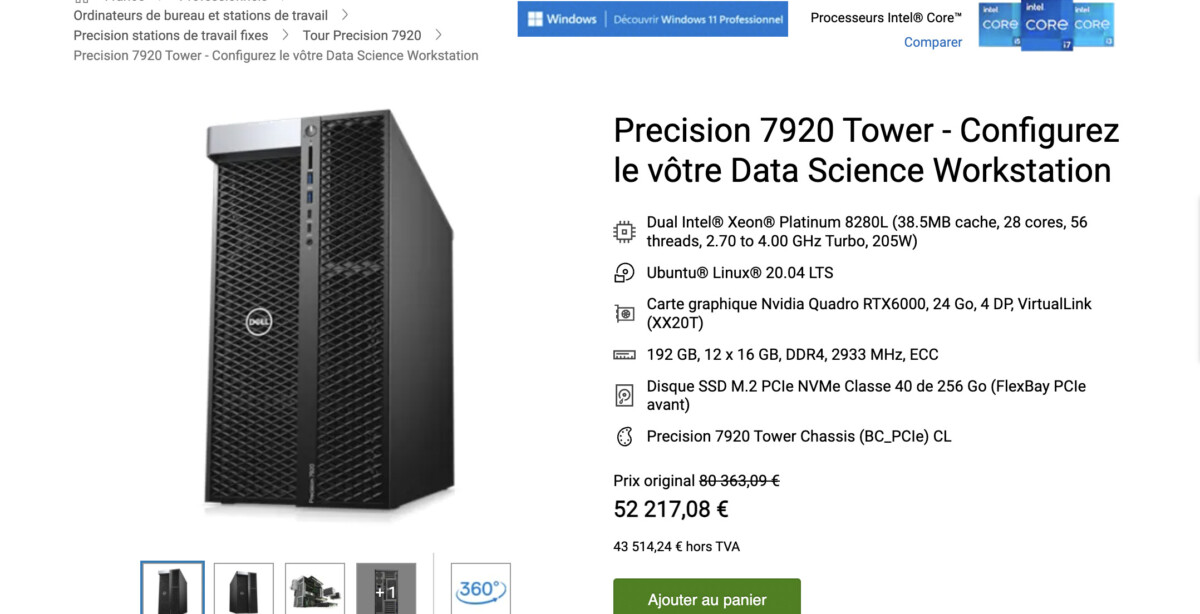 The cost of the machine is not really an issue
So in this context, the machine cost is not really an issue, because the greatest value to the company and also the biggest cost are the people working on it.
Moreover, it is quite clear that the topic of the importance of Apple's professional computer fonts is only one topic for those who do not use them. Or in other words, professionals who know they need Mac Studio are well aware of their needs and the versatility of the tool.
---
To follow us, we invite you to download our Android and iOS app. You can read our articles and files and watch the latest videos on YouTube.